Argentina is the eighth largest country in the world, a huge, ranging expanse that extends from subtropical northern rainforests to frozen southern glaciers. It contains the highest mountain outside of Asia and covers in its lengthy sprawl the full range of climate zones. Justly famous for beef, the tango, gargantuan inflation, military dictatorships, and soccer, Argentina offers its visitors the comfort and familiarity of Europe with the excitement of nature and adventure travel.
A more stable recent past has made Argentina a renewed target for travelers. Buenos Aires, the capital, with its wide boulevards, exclusive shopping districts, open cafés, excellent restaurants, and intriguing nightlife is comparable to any European city. But Europe is without the tantalizing rhythms and motions of the tango.
Cordoba, the second-city and one time political and social rival of the capital, retains the best examples of Spanish colonial architecture. The mansions of Mar del Plata, on the Atlantic coast, bespeak the power of wealth that extended to the seaside resort areas from Buenos Aires. New accommodations that cater to the middle class provide greater access to the beaches that cover over five miles.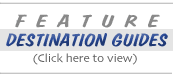 Natural wonders will attract most tourists beyond the cities. In the warm, tropical north, most visitors stop at Iguazu Falls, where over 175,000 cubic feet of water per second fall 230 feet into the gorge below. The Andes, like a spine at the western back of Argentina, soar higher here than anywhere else on the continent, and Aconcagua at 23,034 feet is the citadel. The northern foothills yield grapes for internationally respected wines, and the flat Pampas of gaucho fame feed cattle whose beef is unrivalled anywhere. And Patagonia, the southern third of the country, has mountains, glaciers, incredible coastlines, and enough unusual flora and fauna to exhaust even the hardiest nature lover.