Australia - The only country that is also a continent. In area, Australia ranks as the sixth largest country and the smallest continent. Australia is often referred to as the "land down under" because it lies entirely within the Southern Hemisphere.
Famous for its vast open spaces, bright sunshine and unusual wildlife, the "land down under" features an endless variety of natural wonders.
Australia's huge interior, known as the "outback," is mostly dry grassland areas with few settlements. As a whole Australia averages only six persons per square mile, but adventure fills every inch.
This land is known for its vast open spaces, bright sunshine, enormous numbers of sheep and cattle, and unusual wildlife. Kangaroos, koalas, platypuses, and wombats are only a few of the many unusual animals that can be found in Australia.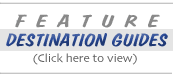 Originally a British colony, Australians have retained a good number of British pastimes - Tea is still the favorite drink, cricket is still one of the favorite sports, and the English spoken still uses many British terms. However, Australians have developed a way of life all their own. The warm, sunny climate contributes to the inhabitants spending much of their free time out of doors. Australians love outdoor sports and outdoor living in general.
The most famous sporting event is likely the annual Melbourne Cup, a horse race eagerly followed by Australians and attended by fans from throughout the world.