The Commonwealth of The Bahamas, the old Privateers Republic of the pirate Blackbeard, is a smudge of 700 islands and 2,500 cays 600 miles off North Carolina between the Gulf Stream and the deep Atlantic. Bermuda shorts, cruise ships, casinos, gin-clear water, and miles of sand have made this place a classic tourist location since the 1920s.
Nassau, the capital, and Freeport on Grand Bahama cater to cruise ships and snowbirds yet retain enough colonial architecture and British aplomb to make this financial haven an interesting visit. Sun 320 days of the year helps out, too.
Water activities are exceptional. The third longest set of coral reefs in the world has made all of the islands of the Bahamas prime scuba diving and snorkeling venues. Note the steady breezes and protected bays and coves, and you can see why the Abacos are called the Sailing Capital of the World and why the Bahamas are a hot spot for windsurfing and parasailing. These are also Hemingway's "Islands in the Stream" and the bone fishing and sport fishing are remarkable.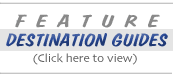 Great, bustling hotels with gambling and entertainment and charming little inns and cottages with quiet beaches draw visitors year round for high stakes activities or refreshing solitude. Festivals featuring local goombay and rake 'n' scrape music keep things hoppin'.