The 21 square miles of the self-governing dependency of Bermuda lie 570 miles off the coast of North Carolina. The British gave them their government and institutions; Africa gave them the majority of their present population; and the Gulf Stream continues to give them incredibly beautiful weather. Bermuda's coral reefs are the farthest north in the Atlantic and give the 150 islands in this group a Caribbean feel.
Hang out in Hamilton, the capital and center of commerce, and stroll by the pastel Victorian houses along the harbor, or perhaps visit a Gainsborough or Homer painting in the Bermuda National Gallery. You might, instead, take an island bus over to St George, the first capital, and wander the twisting little streets, or raise your eyebrows at the pillory and stocks in Kings Square. You'll never be out of reach of the music of the island - reggae, ska, blues, calypso, jazz - or the drumming beat of Gombey dancing.
If history's your thing, visit the Bermuda National Trust Museum, where you'll note that tiny Bermuda, besides being the model for Shakespeare's The Tempest, has played a role in the settling of early America, the American Revolution, the War of 1812, the American Civil War, and both World Wars.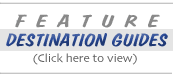 No doubt, though, you'll want to get wet. Go swimming along the beaches of South Shore Park, scuba diving on the Cristobal Colon wreck, snorkeling Tobacco Bay, or fishing beyond the reefs. If you want to stay dry for a while, hike the Bermuda Railway Trail, converted from an old narrow-gauge railway. Whatever makes you tired, you'll be ready to dine at one of the many fine restaurants that offer the world's cuisines.
Whatever your taste in action or relaxation, Bermuda has it. As one of the websites proclaims, "If you can dream it, you can do it in Bermuda."