Brazil - The largest country in South America in both area and population, it occupies almost half of the continent and has more peoples than all the other South American nations combined. Brazil ranks fifth in both area and population among countries in the world.
Brazil has a varied landscape. The world's largest tropical rain forest sprawls across much of the north. The mighty Amazon and other enormous rivers wind though this vast green area of towering trees and steamy jungles. Cloud-capped mountains rise north of the forests and border the Atlantic Ocean in the southeast. Dry plains extend across parts of northeastern Brazil. The low plateaus of central and southern Brazil have fertile farmlands and lush grazing areas. Broad white beaches line glistening seashores on the nation's long Atlantic coast.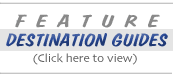 With over 6,000 miles of coastline, it's not surprising that thousands flock to Brazil's broad, white beaches every weekend.
Rio de Janeiro's Maracana Stadium is the largest in the world and is home to internationally-televised soccer tournaments.
A number of colorful festivals also brighten life in Brazil. The best known is Carnival, celebrated each year around early April. Thousands of richly costumed Brazilians ride magnificent floats that compete for prizes in dazzling parades. Energetic dancers, their bodies swaying to the rhythms of the samba, crowd the streets. Joyful singers and lively musicians add to the fun.