More than one quarter of the land in Costa Rica is protected from development as national park, forest reserve, or reservation. The county's aggressive support for the environment has made Costa Rica the best place to visit the widest variety of tropical flora and fauna with the least impact.
The long-standing, democratic form of government that bravely got rid of its military forces in 1949 provides an underlying stability rare in this part of the world. Good hotels, restaurants, and visitor facilities have gained for tourism over 30% of the GNP.
San Jose, the capital of Costa Rica, will likely be your starting place; most flights arrive and depart here and most tours begin and end here. In the Jade Museum and the Museum of Pre-Columbian Gold you can get a vague idea of what Columbus saw in 1502 that prompted him to name the area the "rich coast."
Santa Rosa National Park, which occupies a peninsula facing Nicaragua in the northwest corner of Costa Rica, has the largest tropical dry forest in Central America.
The park is also the site where a peasant army of Costa Ricans ousted the invading forces of the American soldier-of-fortune William Walker just before the U.S. Civil War. Juan Santamaria, a young drummer boy, died while torching Walker's hiding place and became a national hero.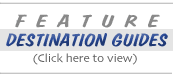 At the opposite end of Costa Rica's Pacific coastline, Corcovado National Park covers most of the Osa Peninsula and protects some of the finest tropical rain forest remaining on the planet. Many of Costa Rica's 850 bird species and 1,400 tree species are found here along with monkeys, sloths, tapirs, jaguars, armadillos, snakes, and cute-but-poisonous frogs.
The Arenal Volcano, in the park of the same name, has been active since 1968 and is best explored from La Fortuna de San Carlos, the closest town.
Not far away is Monteverde, a small Quaker community in the mystical cloud forest, and a major tourist destination with hiking trails, a butterfly garden, and art galleries.
Besides ecotourism, Costa Rica has become famous for great sport and adventure trips. You'll find well-organized tour operators for rafting, river and sea kayaking, mountain trekking, scuba diving, mountain biking, surfing (the best in Central America), horseback riding, and deep sea fishing.