The description of their country developed by the Danish Tourist Board is right on the money. "Denmark is a friendly, well-functioning oasis in Europe. Foreigners on holiday here meet free-spirited, informal people who have cleverly organized a unique society. A society based on love of design, culture, and social values."
In the flat Jutland peninsula and islands that extend north from Germany, the land of fierce Vikings and Victor Borge, travelers do find a friendly, cozy atmosphere where the world feels arranged and correct.
Copenhagen exudes the openness, freedom, and liberality that characterize Scandinavia in general. The love of art and design appear everywhere in architecture, signage, music, sculpture, flowers, window dressing, and everyday amenities.
Amalienborg Palace, the Little Mermaid, Tivoli Gardens, Ny Carlsberg Glyptotek, the Nationalmuseet, the longest shopping street in Europe, and a full schedule of concerts and festivals - the Copenhagen Jazz Festival and the Copenhagen Summer Festival are world famous - make Copenhagen a pleasant but active capital city.
But it doesn't end there. The Roskilde Festival, in Roskilde, of course, is northern Europe's largest rock music gathering.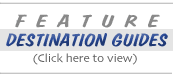 Arhus, a spirited university town, has a nine-day music, theatre, and dance festival with a concurrent Viking Festival that together attract visitors from the whole of Europe.
Can't forget Legoland, either, near Billund. An entire theme park from 42 million Lego blocks, 3 million of which are the Port of Copenhagen in miniature
A more active journey for you? Take to the cycling routes, which form a separate network throughout the flat countryside. You can ride the entire west coast - 500 km, or take short ventures from any of the cities. Windsurfing, yachting, swimming, and fishing are big, too.
The dramatic land connection to Sweden's Malmo, by bridges and tunnels that are marvels of engineering, has increased traffic to Copenhagen and made Denmark an easy-access beginning to an exploration of the Scandinavian countries.