The 322 islands of the Republic of Fiji sit in the center of the South Pacific islands that are scattered east and north of New Zealand and New Caledonia. Only about a third of the islands of Fiji are populated, and 70% of the inhabitants live on Vitu Levu, mostly in and around Suva, the capital.
Early stories of fierce cannibals kept Europeans away from the islands until the late 18th century and the voyages of Captain Cook and the visit of Captain Bligh and the Bounty.
After years of traders, feuding chieftains, and missionaries, the Fiji Islands eventual fell under British control in 1874. Over 60,000 indentured laborers, brought from India by the British, increased production of cotton, sugar cane, and copra on the plantations and permanently changed the population and politics of Fiji.
Since independence in 1970, ethnic differences in Fijian society have often had political consequences as a recent government turnover in 2000 indicates. Tourism, though, is rarely affected, and Fiji remains one of the premiere destinations for visitors to the South Pacific.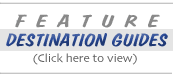 The astounding beauty of the islands, the superb climate, and excellent vacation facilities continue to draw tourists from all over the world - almost half a million in 1999. The retention of many traditional arts and crafts have established Fiji's reputation as the most legitimate island culture venue in the South Pacific.
Fiji is tourist friendly, and you can find accommodations at all budget levels on the main island of Viti Levu at Nadi, Suva, and the Coral Coast or on the melange of small island groups that surround it. Transportation to the more remote islands often requires small plane and then boat travel.
Scuba, snorkel, swim, sun, surf, sail, or lie on the sand. The basics of island life are excellent in Fiji. The land activities - cycling, trekking, horseback riding - are accentuated by the locale. Whether isolated in your thoughts on the beach or crowded by the flashing colors of fish on the reefs, you will love Fiji.