Ireland is a beautiful, perpetually green land of rain, and mist, and magic. The long history and frequent difficulties of the island have nurtured a proud and distinct culture admired world wide for its courage, joy, and imagination. Its impact on Western culture far outstrips its 84,000 square miles of land and its 5.5 million inhabitants.
This is the land of St. Patrick, shamrocks, limericks, leprechauns, and the wearin' of the green. The land of whiskey, Guinness, and cozy pubs filled with lilting music that will not leave a man's feet quiet for long. Writers spring from the land in unusual numbers and significance - Swift, Wilde, Shaw, Yeats, Beckett, Joyce, Donleavy, Behan, Doyle, Macabe, and Heaney.
The dignity of Dublin's Georgian buildings, the fame of its authors, and the liveliness of its pubs insist that any visitor stop in the capital city on the east coast. The castle, the churches, Trinity College, the museums, and the National Gallery have made Dublin the cultural center of Ireland.
Opposite Dublin at the head of its eponymous bay on the west coast sits Galway, a vibrant university town with narrow streets, quaint storefronts, and a busy nightlife. Wonderful festivals for jazz, literature, and the arts are spread through the year, so check out the schedule before you go.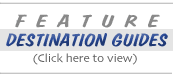 Opportunities to visit quiet villages and relax in bed and breakfasts so abound that singling out any part of the countryside is impossible. But the island is only about 400 miles long by 275 miles wide, so exploration by web or in person is clearly the key to making your getaway.
Far more than sitting in front of a peat fire sipping after dinner, Ireland has a great range of activities, some of which are surprising. Walking is a major avocation in Ireland, and you'll find miles of paths - called "ways" - everywhere. Prominent are Kerry Way and Beara Way in the south, and Wicklow Way not far from Dublin.
Fishing is excellent and well managed, so ask for permits and directions. The West Coast has some of the best scuba diving in Europe, and sailing is big, too - over 120 yacht and sailing clubs!
The Irish eyes are smilin', the rainbows are glorious, the pubs are warm, and the people are happy to see you. Put Ireland at the top of your list of travel destinations.