In Jamaica, you can find the top-of-the-line resorts with references from the rich and famous and discover simple guest rooms in a village whose fishermen still bring back the catch each day. You can scuba dive or snorkel, hike or horseback ride, dance all day at a reggae festival, or fall asleep at the beach.
Columbus landed on the island we now call Jamaica in 1494 and Spanish settlers began arriving in 1510. By the end of the century, the Spanish had completely erased the indigenous population. The British took over in 1654 and the era of buccaneers, slave trading, and regular war with France or Spain began.
Granted autonomy in 1739, Jamaica remained volatile and the next 100 years was dotted with slave rebellions. The emancipation of slaves in 1834 didn't resolve the racial and economic difficulties and rebellion and repression continued.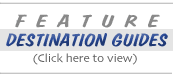 Universal suffrage in 1944 and autonomy in 1947 has only led to decades of heated political party disputes and occasional violence.
The amazing product of this turbulent history is the 'no problem, mon' culture of Jamaica, almost universally a symbol of a laid back and mellow life style, and the home of Rastafarianism. Tourist brochures and advertisements are filled with photos of incomparable beaches, colorful reefs, crystal water, constant climate, dredlocks, and the Blue Mountain.
The contradiction in the heart of Jamaica only makes it more interesting. Jamaica is not just lively, it's real.