The contrasts of Japan are exciting, poignant, colorful, and dramatic. From geology to sociology, countering forces have made Japan lively and dynamic on the inside and mysterious from the outside. It's a place that will challenge your assumptions and reward your explorations.
The volcanic base of the Japanese island chain provides spectacular mountain scenery but also prompts seismic activities, though most are so small only scientists track them. This nation of islands extends from the sub-arctic in the north to the subtropical more than 1,700 miles to the south. The climatic diversity will let you ski the famous powder of Hokkaido or scuba the coral reefs off Okinawa.
Japan on one face is a high tech, modern, almost-futuristic world of neon and electronic gadgetry. On another, it's one of the world's most traditional and elderly societies with a population that will have 25% of its citizens over the age of 65 by 2025.
In Tokyo, if the frantic pace of the capital lets you catch your breath, you'll notice touches of a traditional, slower life style even in Ginza, the opulent shopping area that's jammed with expensive goods. Ueno-Koen, a park just north of the center of Tokyo, has the main museums - the Tokyo National Museum, where you'll find the finest Japanese art, the Shitamachi History Museum, where old Tokyo is recreated, and the National Science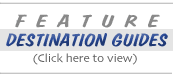 Museum, where scientific activities go non-stop.
Almost in sight of Tokyo lies photogenic Mt. Fuji, a 12,385-ft. perfect cone volcano and the star of all photo albums of Japan. The peak can be hiked, which the Japanese do in droves in July and August, but care is advised in the best of weather, and winter should be kept for serious, experienced climbers.
Kyoto, where festivals are almost non-stop, was the imperial capital from 794 to 1868, so it's not surprising that here you find the most important temples, the Imperial Palace, and nearby Himeji-jo Castle. Hiroshima and Nagasaki, two modern cities noted for their destruction in WWII by atomic bombs, should be on the itinerary of all visitors. The A-Bomb Museum in Nagasaki provides a suitable caution for humanity.
Japan, though, is mostly its people and their traditions. Flower arranging, tea ceremonies, Zen paintings, the theatre of kabuki and noh, saki, green tea, geishas, sumo wrestling, paper-wall architecture, and hefty wooden shrines and temples. A fascinating, different world awaits the traveler willing to withhold assumptions and undertake an exploration of modern and traditional Japan.