Kenya - Located directly on the equator, Kenya offers some of the nicest scenery of many countries in Africa.
Kenya's coastal area is a hot and humid tropical region. Bordering the Indian Ocean, the coastline enjoys warm weather year around. Beautiful sandy beaches, lagoons and swamps, as well as large patches of rain forest line the coast.
Inland, vast plains stretch over about three-fourths of Kenya. The plains form a series of plateaus, gently stair stepping from near sea level at the coast to about 4,000 feet (1,200 meters) inland. While the plains are the driest of Kenya's climates, a good portion of wildlife can be found in this region.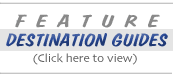 The highlands in the southwest are a region of mountains, valleys, and plateaus, blanketed by forests and grasslands. The area receives enough rainfall and has enough fertile soil to support the majority of Kenya's inhabitants.
A spectacular variety of wild animals live in Kenya. This wildlife--which includes elephants, giraffes, lions, rhinoceroses, and zebras--attracts thousands of tourists to Kenya each year.