Fierce northern tribes kept the Romans from overrunning Britain during the invasion of 55 BC. Where they stopped, The Romans built a wall, named it for Hadrian the Emperor, and hoped it would keep the Picts and the Scots at bay.
Roman rule faded, Christian monks appeared, Norse tribes invaded, and Jutes, Angles, and Saxons from the Frisian Islands in northern Europe settled lower Britain and began the amalgamation of the English language. But the wall remained to mark the boundary between England and Scotland.
In the late 13th and early 14th centuries William Wallace and Robert the Bruce fought for Scottish independence, and the Scottish Parliament proudly sat separately from England's for almost 400 year until 1707. Almost 300 years later, in the summer of 2000, the Scottish Parliament convened once again, and Hadrian's Wall once again marks a boundary of self-determination and independence.
Scotland has also retained its famous wild highlands, timeless islands, mysterious lochs, and celebrated cities. Thousands each year hike the West Highland Way, a trail from Glasgow to Fort William that marches through the best of the highland and by Ben Nevis, the highest point in Britain.
Scottish castles have long been favorites of visitors, and they're everywhere -over 250 have their own web sites! Beautiful Eilean Donan Castle, reputedly the most photographed in Scotland, Urquhart Castle overlooking Loch Ness, the Queen's Balmoral, Dunnottar, Cawdor, and Caerlaverock.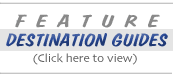 The land of castles includes the fantastic, and stories of ghosts and oddities from Macbeth's Banquo to Loch Ness's Nessy have entertained visitors since the Middle Ages.
Edinburgh's magnificent castle, historic old town, and Georgian new town provide the many venues for one of Europe's greatest events, the Edinburgh Festival that crowds the city each August. The National Gallery and the National Portrait Gallery are worthwhile bonuses for followers of the arts.
Scotland's made its mark in sports history as the home of golf - Scotland has more courses per person than anywhere in the world. St Andrews's Royal and Ancient Golf Club's Old Course is a shrine for world golfers and still hosts professional play. The Highland Games will clearly demonstrate that large men in kilts throwing huge logs over their shoulders are no sissies - and will give you ideas for contests that will baffle your neighbors when you get home.
For wild, desolate walks on severe lands, get to the Scottish Islands - the Inner Hebrides off the west cost, or the Outer Hebrides to the north. Even farther out are the Orkneys and the Shetlands to the far north. You'll have a new respect for the ponies, to be sure.