The range of expression and experience in Spain is as overwhelming as its vast plains, ranging mountains, and glorious beaches. Spain is an encyclopedic experience for visitors. Art, architecture, literature, music, dance, history, language, and cuisine - for everything there's something specifically Spanish.
Style, fame, grace, and glory came with the various invaders of the Iberian peninsula, and each conqueror has left distinguishing marks. The aqueduct in Segovia is a still-functioning remnant of the Roman occupation, and the Alhambra in Grenada a beautiful vestige of Muslim possession. Modern movements are already leaving traces of their domination - Gaudi's Sagrada Familia in Barcelona and the new Guggenheim Museum of Contemporary Art in Bilbao.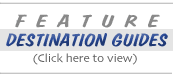 Whatever drew the first invaders has a modern counterpart that attracts 51 million visitors a year. Many come today to visit the Prado Museum in Madrid, which has gathered the greatest in Spanish and world art from Velasquez and Goya to Picasso and Dali, or to see the nearby Thyssen-Bornemisza Museum's paintings. The rugged northern coast invites climbers to the Picos de Europa and pilgrims to Santiago de Compostella. A few stagger through Pamplona's streets to dodge the onrushing bulls. Others take Spain's grand tour and include the southern cities of Toledo, Cordoba, Grenada, Barcelona, and Seville. For some, it's just the fiestas, or the food, or the sand and the sun.