Wales is a mountainous, often wet country that sits on the west coast of Britain facing the Irish Sea. Once the coal bin of the Industrial Revolution, the modern country now attracts active tourists from around Europe to long-distance walking trails and a variety of outdoor activities.
Of the seven long-distance walking trails of Wales, Offa's Dyke is the most famous. Offa, the 8th century King of neighboring Mercia, built a dyke the length of their border to mark the boundary and to impede attacks from the fierce Welsh people. Today, the 177-mile trail from Chepstow to Prestatyn has become the most popular distance walk in Wales.
Equally attractive for visitors is the eisteddfod, a competition in arts and crafts that features poetry and music. The National Eisteddfod Society backs three major competitions yearly, and local ones regularly appear. Welsh male voice choirs are world famous as well and can trace their origins to a working class nonconformist movement and the upsurge of Protestant religions during the 1700s.
The Welsh language, sustained in part by the eisteddfods, is one of the oldest in Europe. Its Celtic origins are shared with Gaulish of the continent (extinct), the Gaelic languages of Ireland and Scotland, and its nearest relatives, Cornish (extinct) and Breton. Although only around 20% of the Welsh speak the language, the Welsh Language Act of 1994 and other developments, including Welsh language television and bilingual publications, have increased speakers and assured the survival of the ancient tongue.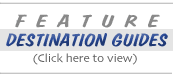 Cardiff, the capital of Wales, is the largest city with over a quarter of a million residents and is the place to find museums, watch Welsh rugby, and have a bite of Welsh rarebit.
You can browse the world's largest collection of used bookstores in Hay-on Wye, stop in at Brown's Hotel in Laugharne, where Dylan Thomas quaffed a few, or wander the medieval walls of Conwy.
The Welsh have preserved the wild beauty of their land in three major national parks. Snowdonia, in the north, is Britain's second largest park. The forests, lakes, valleys, peaks, and castles make this a natural for visitors who want to climb, kayak, raft, hike, or canoe.
The 167-mile Pembrokeshire Coast Path in Pembrokeshire Coast National Park follows the ins and outs of the rugged coastline to reveal tiny fishing villages, sandy beaches, ancient ruins, and lots of birds.
Skinny Brecon Beacons National park is only 15 miles by 45 miles in size, but that doesn't count the ups and downs in the four different mountain ranges it includes. Offa's Dyke trail edges the border on the east.